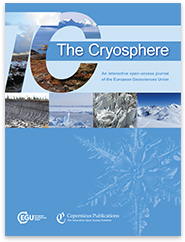 Co-editors-in-chief: Chris Derksen, Christian Haas, Christian Hauck, Nanna Bjørnholt Karlsson & Thomas Mölg
eISSN: TC
1994-0424
, TCD
1994-0440
The Cryosphere (TC) is a not-for-profit international scientific journal dedicated to the publication and discussion of research articles, short communications, and review papers on all aspects of frozen water and ground on Earth and on other planetary bodies.
The main subject areas are ice sheets and glaciers, planetary ice bodies, permafrost, river and lake ice, seasonal snow cover, sea ice, remote sensing, numerical modelling, in situ and laboratory studies of the above and including studies of the interaction of the cryosphere with the rest of the climate system.
Recent papers




Highlight articles










Notice on the current situation in Ukraine
To show our support for Ukraine, all fees for papers from authors (first or corresponding authors) affiliated to Ukrainian institutions are automatically waived, regardless if these papers are co-authored by scientists affiliated to Russian and/or Belarusian institutions. The only exception will be if the corresponding author or first contact (contractual partner of Copernicus) are from a Russian and/or Belarusian institution, in that case the APCs are not waived.
In accordance with current European restrictions, Copernicus Publications does not step into business relations with and issue APC-invoices (articles processing charges) to Russian and Belarusian institutions. The peer-review process and scientific exchange of our journals including preprint posting is not affected. However, these restrictions require that the first contact (contractual partner of Copernicus) has an affiliation and invoice address outside Russia or Belarus.