The stability of present-day Antarctic grounding lines – Parts 1 & 2
8 September 2023
Part 1: The grounding lines of the Antarctic Ice Sheet could enter phases of irreversible retreat or advance. The authors use three ice sheet models to show that the present-day locations of Antarctic grounding lines are reversible with respect to a small perturbation away from their current position. This indicates that present-day retreat of the grounding lines is not yet irreversible or self-enhancing.
Contact: Olivier Gagliardini (olivier.gagliardini@univ-grenoble-alpes.fr)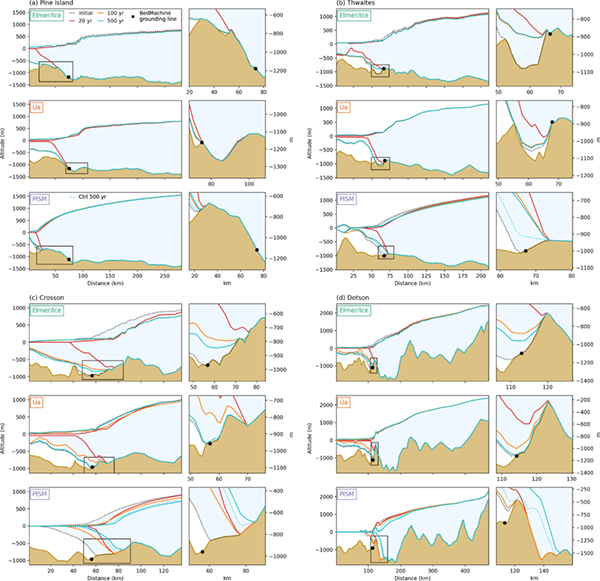 ---
Part 2: The authors use an ice sheet model to test where current climate conditions in Antarctica might lead. They find that present-day ocean and atmosphere conditions might commit an irreversible collapse of parts of West Antarctica which evolves over centuries to millennia. Importantly, this collapse is not irreversible yet.
Contact: Ronja Reese (ronja.reese@northumbria.ac.uk)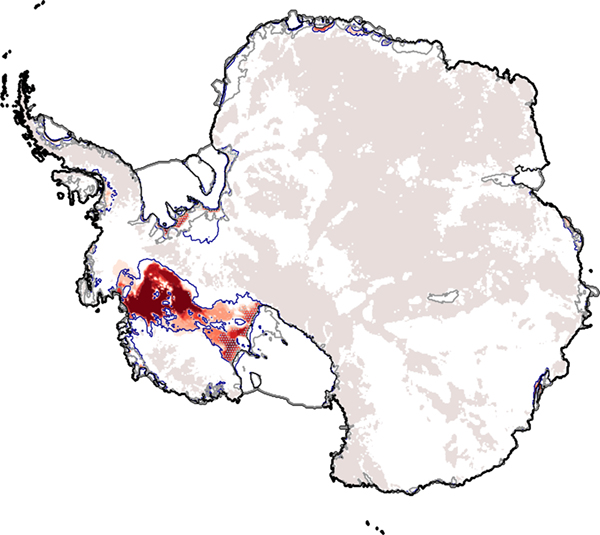 ---
Youtube video: https://www.youtube.com/watch?v=wsSD_vuBz-s
Related press releases:
Northumbria University: https://newsroom.northumbria.ac.uk/pressreleases/west-antarctic-ice-sheet-has-not-reached-its-tipping-point-towards-irreversible-collapse-yet-new-research-finds-3271670
Potsdam Institute for Climate Impact Research: https://www.pik-potsdam.de/en/news/latest-news/stability-inspection-for-west-antarctica-shows-marine-ice-sheet-is-not-destabilized-yet-but-possibly-on-a-path-to-tipping (English)
https://www.pik-potsdam.de/de/aktuelles/nachrichten/stabilitaetspruefung-fuer-die-westantarktis-mariner-eisschild-bislang-nicht-destabilisiert-aber-moeglicherweise-auf-dem-weg-zum-kipppunkt?set_language=de (German)
Université Grenoble Alpes: https://www.univ-grenoble-alpes.fr/actualites/a-la-une/actualites-recherche/perte-de-glace-de-la-calotte-glaciaire-de-l-antarctique-son-futur-n-est-pas-encore-ecrit-1292104.kjsp